We brought you news of a remake of the classic NES game "Jack and Casie." By all accounts, this was an attempt by homebrew developer Martin Konrad to take something that many people grew up loving and bring it back for those who now own Nintendo's modern systems. The story has now come full circle as the game has been released and those who currently own a Wii U, with or without the help of the "WUPInstaller" homebrew app, can experience this for themselves.
Jack and Casie gameplay Story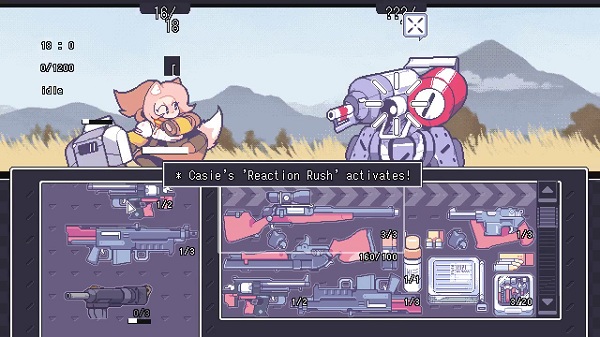 A scientist created two robots that would be able to think on their own. They were named Jack and Casie. The scientist continued his work, but one day the creations decided to rebel against him. They killed the scientist and fled to another planet, where they built a huge city using parts stolen from their homeworld. A few years later, Jack decided he wanted more power, so he used his scientific abilities to build an army of robots that would do everything he commanded. However, Casie had different plans; she created an army of robot women that would over-throw Jack's male robots. The battle was long, the army of robot women finally defeated his creations, and Casie became ruler of the planet.
While relaxing in her quarters, one day, an asteroid collided with the planet shattering it into thousands of pieces. When she awoke, she found herself floating in space, alone. Jack had left the planet earlier on a scouting mission and found his way to your ship as you were passing by, looking for new planets to explore. He quickly scanned your system and found that there was no intelligent life on board. He then sent a message to Casie telling her of his coordinates. She came aboard your ship and quickly scanned it for useful technology. She found out that your top speed was a fraction of what it should be and there were a lot of rooms with no functions at all or an unknown use.
She then went into the engine room and started to work on the engines, she had succeeded in making them run three times faster than before, but they still needed a lot of work to reach their full potential. She then used the other technology she found to make your radar map planet systems instead of only showing you what was in your immediate area. She also upgraded your weapons, shields and gave you a machine that would extract minerals from asteroids and turn them into fuel for your ship.
How to play Jack and Casie?
The game can be played using the Wii U Gamepad. Simply use your finger or stylus to move the character on the touchscreen.
Some of your controls are locked at first, but you will gain access to them as you progress through the game. The gameplay is very similar to many other platform games of its era, with one button jumping and the other used to attack. One very nice feature is that if you die, it will start you off right at the beginning of the level instead of making your way back through every obstacle again.
If you keep dying on a particular level, this could be due to an error in the collision detection system, so check your character's movement and see if you're getting stuck on anything. If this is not the case, it could simply be that level is one of those levels where your character needs to do a lot of running and every little bit of extra speed comes in help. The developers have built in a nice feature where if you run out of fuel for your jet-pack, Jack will automatically use his feet to reach the other side. This happens very often and saves you a lot of time.