Now the days are getting shorter and the leaves begin to fall from the trees, it's the perfect time to think about prepping your garden for the autumn and approaching winter. Here are just a few ideas to get you started:
Replant
With plenty of rainfall but still relatively mild temperatures, autumn is the ideal time for repositioning poorly placed plants or planting some trees. The soil is moist and warm, which helps the plants to grow strong roots before lying dormant throughout winter. For advice on all things tree-related or help with existing tree issues, contact a Tree Surgeon Bournemouth like kieranboylandtreeservices.com
Lawn Care
After the drying out over the summer, your lawn might be in need of some TLC. Rake away any moss that may have taken hold, aerate the soil by making some holes with a garden fork and lay down some lawn feed to get your lawn winter-ready.
Fallen Leaves
Rotting piles of leaves can leave a garden looking unkempt, so rake them all up and put them to good use. Leaf mould is great for making a fibrous mulch that will add nourishment to your soil. Place the leaves into a bin liner with a little water, make a few holes in the side of the bag and leave to rot. If you're not overly patient, shred the leaves to speed up the decomposition. When the leaves have become crumbly, you can use it as a perfect mulch for your borders.
Seeds
Collecting seeds that fall in your garden is a money-saving way of getting started on planting your garden for the following year. Anything that you wish to grow again, collect up the seedpods and flowerheads, store in a brown paper bag somewhere cool and dry, and they'll be ready for planting in the spring.
Pond Netting
Falling autumn leaves can mess up a garden but are also pretty bad for ponds too. They can block pumps and then rot away in the water, so you'll want to consider placing a fine mesh over the pond to stop debris from entering it. Leaves that you catch on the netting can be added to your leaf mulch bag!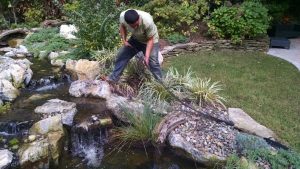 Repairs
The last days as autumn approaches will most likely be the last good opportunity to carry out any repainting or repairs in the garden before winter. Fix any fences, sheds or trellises that need looking at before frost or snow damage finishes them off! This is also a good time for a thorough clean of patio areas, decking or other garden structures. This is useful for discouraging any pests from choosing it as their winter camp, as well as protecting materials from rotting or damage.