No trip to, or drive around the Cotswolds this time of year would be complete without the sight of beautiful little lambs hopping around. These happy energetic little creatures are often met with 'oos' and 'aahs' as frolic around in the field much to our amusement.  If you really like wildlife then you can get a Wildlife Sculpture from Gill Parker which will remind you of what the outdoors really looks like.   A Bronze Wildlife Sculpture can also be given as a gift to a loved one of a favourite animal or pet.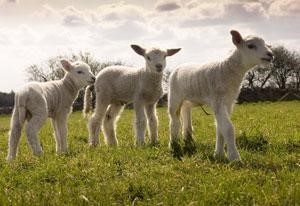 Another staple of the Cotswolds is Cotswolds Huts. You would be forgiven for thinking that these wonders of craftsmanship are only used in conjunction with the gorgeous little lambs that seem to festoon our landscape in April and May.
So let's take a look at some of the wonderful ways these huts are being used:
Heritage. It's the Cotswold lion that has given the area much of it's wealth and trade. You only have to look at the market towns of Cirencester and Stow on the Wold to see that. The reason it's a called a Cotswold lion? When the sheep rubs itself on the limestone it stains the wool yellow making it look like a lion's mane. These sheep needed looking after as the Cotswolds can see some extremes of temperature and change. The shepherd needed a place to hide out and stay plus care for any ill lambs or sheep that need to be kept in the home to keep them warm. The shepherd did not have the same woolly coat as the sheep, so they needed more protection. They were horse drawn but the horse would return to the stables.
Camping and glamping. In the modern era there has been a move to take these huts a bit more of an attractive proposition to the caravanner in all of us. The great thing about Shepherd huts is that they can be wheeled anywhere and not look as intrusive as the standard caravan. Many are left in places that you have to hike to, adding to the mystic of the whole thing. Inside you will find cooking utensils and fresh water plus bedding but not much else. It's up you to commune with nature. Some are hard standing pitches as part of a registered site.
Man cave. David Cameron has one and he is writing his memoirs of Brexit and dual power sharing with the Liberal Democrats. Can it be that the humble hut can be place for men to escape the daily pressures of life? They can but they can also be a women's cave too for that matter. They will set you back twenty-five grand for bespoke one though.
The hut then has become another example fo working class culture gentrified but perhaps that not such a bad thing. These hard working little huts continue to serve a purpose even if we're not called to look after sheep in all weathers any more.