Although we only see them doing them very rarely, all of the Friends characters had jobs. The cost of living in New York's  Greenwich, now West village, is pretty high, and they would have had to have had reasonably well-paid jobs to afford the apartments they rented. Therefore, were they any good at their jobs? Let's look at each one in order of success.
Doctor Ross Geller. Taking his childhood love of Dinosaurs, Ross studied a Degree and a Doctorate in Palaeontology. This led to a job in the New York Museum of Natural History. Despite going all "Red Ross" and having to take a leave of absence, he was able to secure a job as a Lecturer in Palaeontology at the NYU. When we leave them, he has#d just given a groundbreaking lecture to his fellow Palaeontologist that has#d been very favourably received. Success rating – nine out of ten.
Phoebe Buffay. It's far to say that Phoebe had the most challenging start in life, which is why she gets a few extra points. When we first join them in Central Perk, she is a Masseuse and plays the guitar well (but sang terrible songs). By the end of the ten-year series, she is still a Masseuse but now at a high-class place. She can still play the guitar and still writes terrible songs. She does briefly score a hit and video with Smelly cat. She also gives birth to 3 babies (for her brother). Success rating – eight out of ten.
Monica Geller. Monica also uses a childhood love, namely Food. She starts off as a bistro chef at Iridium but falls foul of a policy over free stakes from a supplier. Out of desperation, she takes a job as a burger chef where she has to dress up as Marilyn Monroe. Eventually, she lands a role as Head Chef at Alessandro's, then the very posh JaVU. Success – Seven and a half out of ten.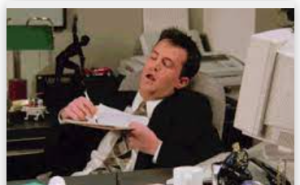 Chandler Bing. Chandler is difficult to judge mainly because we never find out what it is he does. It's something to be with the corporate world. He says he has to "input those numbers" at one point and then becomes a manager interested in the "Wenus". Rachel describes him as "Transponsder!" to which Monica screams, "That's not even a word!", At the end of the series, he is finally in a job he loves, advertising. Success rating – six of out ten
Rachel Green. She spends many years as a terrible waitress. Then she ends up at Fortunada Fashions, where she ends up making the coffee. A chance meeting with Mark gets her the role at Bloomingdales. After her boss dies, she is transferred to the personal shopping service. When that became too much, she finally landed a job at Ralph Lauren. She has a chance to take a job in Paris but turns it down for Ross. Success rating – five out of ten.
Joey Trebbiani. Apart from a war film and the soap Days of our Lives, it's a miracle that Joey can live anywhere in the City. Success rating- four out of ten.
Perhaps if the boys had dressed with more style, they might have got better jobs. Tommy Hilfiger Menswear from ejmenswear.com would help.